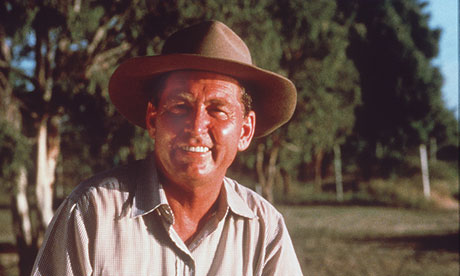 Bill Peach, journalist, TV presenter and travel enthusiast. Photograph: Jim Shrimpton/AAP
Bill Peach was one of the happiest people I've ever met. He attributed his sunny disposition to the blessing of good parents. He grew up at Lockhart in the Riverina region of New South Wales, population 900 or so, where "everyone knew what everyone else was doing, all the time."
Bill was 10 when the second world war ended – still an austere time in a small country town. His memories of childhood abounded with tales of home-made billycart derbies, lots of books, and family gatherings round the wireless in the evening to hear what was happening in the world beyond.
It was at the University of Sydney that he met Shirley, the woman who would be the light of his life, his partner in everything that followed. And I felt that at the heart of his public success lay a profound contentment and gratitude for his wife and family.
Bill's television career has been well-documented – eight years anchoring the pioneering current affairs program This Day Tonight on ABC TV and then on to Peach's Australia, Holiday with Bill Peach and The Explorers. In 1983 he formed the travel company Bill Peach Journeys with a couple of Fokker Friendship aircraft and a boundless enthusiasm to explore his beloved Australia, and to share it with the hundreds who travelled with him over the years.
I knew Bill best during his TDT years, which spanned 1967-75. He was kind and encouraging to me as the only woman reporter for the first few years of the program. (There were other women on the team doing important work of research, studio direction and administration.)
Bill was surrounded by young colts bristling with ego and ambition but didn't need to compete; had no desire to compete, I think. He was a star because of his intelligent journalism and his authority as, quite literally, the anchor of a ground-breaking and often controversial program.
He was perfect for television. The audience saw that he was an honest, solid character, a man of integrity, natural friendliness and grace. He wore his education lightly, was a courteous interviewer, not combative but effective. He was unflappable – and he needed to be because the program was unpredictable.
Bill called me "Caro", my nickname on TDT and later Four Corners. The ABC managing director, Mark Scott, unearthed a photograph of Bill and me perched precariously on a makeshift bench on top of an ABC station wagon, pretending to be a TDT "float", for the Sydney Waratah festival parade in 1969.
We had fun, it was a windy day and Bill had been persuaded to leave his cigar behind; I'm trying to conceal a ladder in my black stocking, not easy given the mini skirts then in fashion. Of course Bill is smiling and laughing, with his infectious chuckle, at our absurd situation. People were cheering, delighted to see their much-loved and so familiar nightly icon in the flesh.
Indeed whenever we reporters arrived at a filming location to do a story for the programme, there was disappointment: "But where's Bill?" I'm sure they believed he produced the program single-handed.
Afternoons were tense at TDT as everyone rushed to be ready for the 7.30pm "to air" deadline. While we waited for our morning's film (yes, film) to be processed, there were ferocious games of indoor cricket played in the corridors of our rabbit-warren offices. Bill would join in and then get out his ukelele and strum Way down Upon the Swanee River and producer Ken Chown would launch into Nearer my God to Thee in his strong baritone.
Bill remained the calm one in the eye of the turmoil, eventually packing up his scripts and his vaccum flask – I was never quite sure what it contained – and making his way to the studio to take his place at the desk. And, night after night, Australia would tune in to see his familiar, dependable, boy-next-door, freckled face (as Peter Luck said, he was the "Ginger Meggs" of Australian TV).
Bill Peach was a fine and much-loved Australian. As somebody has tweeted in the past two days of voluminous appreciation of him: "I hope they didn't break the mould."
Caroline Jones is the presenter of Australian Story and was a reporter on This Day Tonight from 1968 to 1972.
YOUR COMMENT